Dear team,
I own an ACA500plus and today it stopped working on me.
History: I have never had any complaints so far but last weekend when I had the Amiga in a Retro-Console-Event-Room I was informed that my machine would not boot properly anymore. So I checked and they were right. All it did when I arrived was booting into a frozen white screen or into an E5 error with black/green lines all over the screen. To prevent any damage from curious guests, I wrapped everything together.
Today I set up the Amiga back at home to test and it instantly worked (but only for a while). I was in the ACA500plus menu and it looked good at first.
To test it all, I booted my Workbench from CF (worked). Then I started the machine from disk (worked aswell). But at some soft-reboot, using the Amiga keys it started coming up into E5 error with black/green lines again.
That is how it is now. Every time I plug in the ACA500plus, it only boots into E5.
The error:

Without the ACA500plus it is working just fine: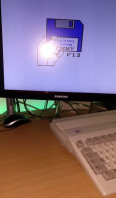 Can someone please help me?