Hello!
Hope someone can point me in the right direction. I have an original X-Surf card connected to my A4000D. The card is recognized but the test performed by xsurftest always crashes the computer (See attached picture). The same thing happens if I try to start AmiTCP. The computer hangs, no mouse movement at all. A soft reset works but not immediately, it takes a few seconds between Ctrl-A-A and the actual reset.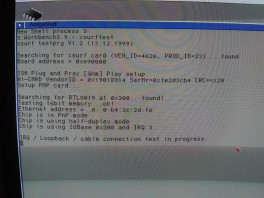 I'm using OS 3.9 BB2. The computer has a CyberstormPPC with 060. I'm using Thor's mmu.library and processor libraries if that's relevant.
My guess is that it is a software problem but I just cannot figure it out. I had it working fine before, but I stored this A4000D for about 2 or 3 years and now that I want to use it again, everything else seems to work, except this.
Any clue will be much appreciated.
Thanks!
- Efrén