Hi,
I ordered RapidRoad and impatiently waiting to receive it! I was reading the posts and noticed users having issue and many of the boards broken because of the PSU. I just wanted to make sure that my current PSU will not cause any damage to it.
My Current System:
Amiga 1200 REV 10.4 recapped
Phase 5 Blizzard 1230 MK III Inc 68030@40mhz - 32MB Ram
Indivision AGA MK3 (waiting for my package!)
30W PSU Power Supply - custom Cisco (edit: Link to known-bad PSU removed)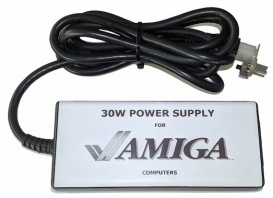 I had to use this PSU cause the original one was 220V UK plug - could find any original 110V U.S. plug so far. When your CA-PSU 110V will be available?
My other question, is there any list of compatible USB devices such as Wireless Wifi, etc.
Thank you in advance.