Hello,
I recently purchased an Indivision AGA MK3 and Eizo Flexscan S1933 for my Amiga 1200.
I am trying to install them at the moment, but have hit an issue with the CIA connection.
The Lisa socket seemed to click into place OK, but when I came to do the CIA adapter, I realised my CIA is already socketed, so the adapter won't fit (see attached photo).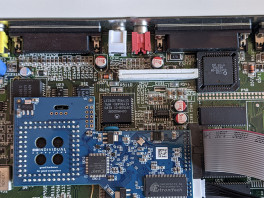 This is how my Amiga 1200 (Rev F? motherboard) came when I bought it secondhand. I have had it professionally recapped and it has the "timing fix". It's been running for over a year with a 40 MHz ACA1233n without any issues; so, I don't want to do anything to risk breaking it.
What are my options?
Have I over-looked anything obvious?
Can I safely run the Indivision AGA MK3 without the CIA adapter (knowing there will be a loss of functionality)?
Thanks in advance for any advice,
Will