Machine - A1200
Card - ACA1233n-40
Internal ROM - 3.0
Workbench - 3.1.4.1
ACATool - 2.1
Hi,
Having just completed a 3.1.4 install I noted the warning from Hyperion re CPU libraries: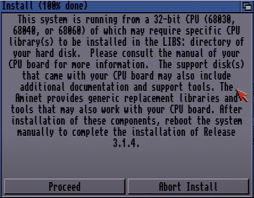 And having just encountered an error trying to get a WHDload game running, I wanted to rule out everything including turning off features using ACAtool, and / or installing anything I might have missed re drivers/libraries etc.
Checking your forums to see if MMUlibs had been mentioned, and if I should install or not. I found the following threads which leads me to ask is there a recommendation re adding the MMUlib from - http://aminet.net/package/util/libs/MMULib ?
2018 post discussing 3.1.4 & MMU libraries:
ACA 1232 and AmigaOS 3.1.4 - where do I find the 68030.library?
29th March 2020 - user mentioned using MMUlib to resolve issue bad was on old tools:
Unable to map internal kickstart on ACA1233n-40
2nd April 2020 - Post saying don't use MMU library:
Acatool MAPROM breaks when setpatch is called
Appreciate your thoughts on this one?
Regards,

Ross