Dear iComp team,
It seems like I've stumbled upon an incompatibility in Indivision's emulation of the Denise chip.
Could you please test the following demo on a machine equipped with Indivision ECS v2?
Kefrens Megademo 6
https://www.pouet.net/prod.php?which=31311
ftp://ftp.amigascne.org/pub/am…ens/Kefrens-Demodisk6.adf
Once the intro shows, press the left mouse button once to skip to the first part of the demo.

Here is a photo of how it looks on my A2000 with an Indivision ECS v2 configured for OCS mode: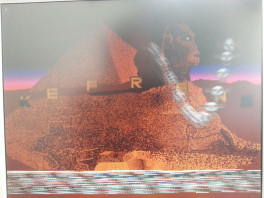 First things first, please ignore the broken scroller at the bottom of the screen - that's because of an ECS Agnus, and does not matter for this bug report at all.

As you can see from the photo above, the letters K and S are black depending on their position. This shouldn't be the case, and indeed it does not happen on my other Amiga equipped with a real OCS Denise. They should remain coloured at all times.

According to a discussion in a forum, this does not happen with ECS Denise either, but it *does* happen in old versions of UAE and has been fixed meanwhile:
https://www.a1k.org/forum/showthread.php?t=70224
Is it possible that Indivision's Denise emulation makes the same mistake?
I suppose this can be fixed with a firmware update, so I'd be grateful for a fix.

Thank you very much!