Hello iComp
My Indivision ECS failed with no image at all. The monitor receives something because when I turn the Amiga on, it goes out of sleep mode but the screen remains all black. After inspection I noticed a component is missing. I have no idea how I managed to do that but anyway... it is missing and I guess that's the reason (Please see attached picture).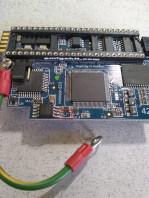 Can you repair it if I send it? I ask because it is the old model so I don't know if you still offer repair service for it.
Also, I read on another thread on this forum about a fix to make it more tolerant to ripple from the PSU. There are some pictures on that thread and looks like mine does not have such a fix. Can the fix be applied as well?
Thanks!
Efren