Hello all!
I'm having a bit of a problem here with my chameleon 64 (Version 2). The problem isn't with the operation with the unit but with the VGA output. I'm getting a very smeary picture with ghosting. Unfortunatly it is hard to show this problem "on-camera" all that well although I've tried to attach some pictures below. I've tried with 3 displays (One is a DVI monitor which will accept a vga input via a vga to dvi converter); another a normal HDMI monitor (I used a powered vga to hdmi converter) and an actual monitor with vga input.
The problem remains the same with all 3; trying to change the screenmode on the chameleon either makes the problem worse or the monitor refuses to accept the screen mode setting. In particular when I used the HDMI monitor/powered VGA to HDMI converter and tried to resolve the problem by increasing the video mode on the chameleon the result more closely resembled early 80s UHF TV output - !
Unfortunatly I no longer have any other vga monitors around

I've attached a couple of pictures btw. I don't seem to have any connection issues btw (cables fit ok in chameleon 64's vga output port). I've also tried differnet power supplies.
Anyone know why I'm gettng such a poor smeary vga output?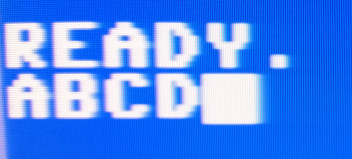 Here's the first picture. Note the fuzzyness to the right of each character. I could not get it to show on camera but a little to the right of the white cursor there's also a ghost of the white cursor.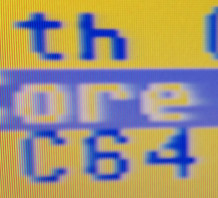 Smeary picture again shown here with lots of smearing in the blue part of the image here (blue background, yellow characters).
I did not use any "sharpening" settings on any of the monitors (only the HDMI display even had that, and it was not being used).
ljones