Machine - A1200
Card - ACA1233n-40
Internal ROM - 3.0
Workbench - 3.1
ACATool - 2.1
Good evening, I wonder if I could get some Easter accelerator help - I just bought a second hand ACA1233n-40 and I love the card it's fantastic.
Having also just purchased Hyperion's Amiga OS 3.1.4, I wanted to get it installed and assumed that it would be best to first have maprom load up 3.1.4 rom from memory on the ACA1233n-40 ?
Having initially looked for tutorials on youtube and web, I started playing with ACATune, ACAMaprom etc, before realising that the newer ACATool should be used instead.
So I tried the following:
- placed ACATool to my C on Amiga 1200
- placed Hyperion's 'kick.a1200.46.143' (524,288 bytes) into sys:Kickstarts/
- Run the GUI and first just tested if I can maprom the existing 3.0 internal ROM to fast memory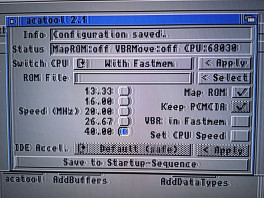 check on command line: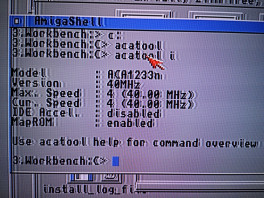 - hard reboot Amiga and all seems fine
- then jump back to GUI and attempt to set ROM file location to Workbench:Kickstarts/kick.a1200.46.143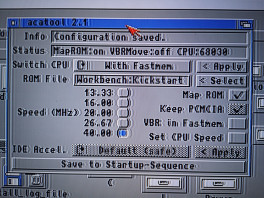 - Hard reboot and I simply get red screen
- navigate back to Workbench by left mouse button to remove maprom
- attempt to place kick in various other locations like C: S: or DEVS/Kickstarts but get the same red screen on hard reboot
I might be missing something obvious, as I'm completely new to Amiga config, but any help would be appreciated?
Another option I was considering was just installing 3.1.4 without doing the maprom, and set the maprom up when 3.1.4 is finished but I didn't know if that would work and/or upset the install. Either way I'd like to figure out why I'm currently getting red screens?